Facebook 'fully committed' to pity Russian ad data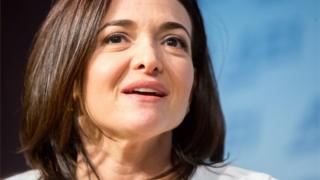 Facebook is "fully committed" to providing minute information about ads bought in Russia during the US election, says Sheryl Sandberg.
The ads, pages they related to and who they were targeted at have been given to investigators, pronounced Ms Sandberg.
The ads and the feign accounts used to get them on Facebook had been found and removed, she said.
However, she added, if the ads had been placed by genuine accounts, Facebook would not have private them.
Bad actors
"Things happened on the height in this election that shouldn't have happened," pronounced Ms Sandberg, arch handling officer of the social network in an talk with news site Axios.
"We have an huge shortcoming here," she said, adding that Facebook was "fully co-operating" with central investigators looking into what are believed to be Russian efforts to change the election.
On 11 October, Ms Sandberg and others from Facebook seemed before US congressional panels looking into reports of Russian division in the election.
"We consider it's critical that they get the whole picture and they explain that entirely to the American public," she said, adding that once the examination was resolved and done public, Facebook would yield some-more information about the ads and how they were used.
Ms Sandberg pronounced that Facebook had stepped up its monitoring systems given the find of the wide-ranging ad campaign, which piped some-more than 3,000 ads on to the social network that were seen by about 10 million people.
Facebook was investing in machine-learning techniques to help mark feign accounts that are being used to widespread identical ads to those seen in the 2016 campaign. It had also employed 4,000 people to oldster and examination calm before it was put up on the network.
The site had also taken stairs to stop those behind the feign accounts profiting from the ads they put on Facebook, she said.
It also approaching to get some-more information from US comprehension agencies on other "bad actors" and would pierce to extent their entrance to Facebook, pronounced Ms Sandberg during the wide-ranging interview. The social network was "aggressively" following up leads it had already been passed.
"We do not wish this kind of unfamiliar division in Facebook," she added. "No-one wants that kind of interference."
Expanding on either the adverts would have been allowed to run if they were posted by genuine people, Ms Sandberg pronounced the site had no seductiveness in vetting information or curbing free debate as this could set a dangerous precedent.
"When you cut off debate for one person, you cut off debate for all people, she said.
Short URL: http://usstory.net/?p=162759
Posted by
USstory
on Oct 12 2017. Filed under
Technology
. You can follow any responses to this entry through the
RSS 2.0
. You can leave a response or trackback to this entry