Austrian parties in election TV clash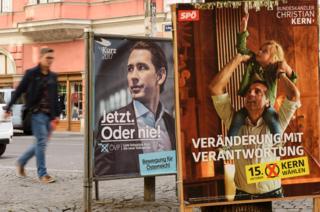 Austrian party leaders took partial in a final TV discuss on Thursday, with regressive hardliners on immigration sloping to win an election on Sunday.
The spotlight was on Foreign Minister Sebastian Kurz, just 31 years old, whose People's Party has a clever lead in opinion polls.
The jingoist Freedom Party and centre-left Social Democrats are neck-and-neck behind it, polls say.
Despite the differences, the discuss was loose with some laughter.
Chancellor Christian Kern, whose Social Democrats now seem to be against with the Freedom Party for second spot, certified to errors in a campaign studded with mishaps and resignations.
His categorical rival, Mr Kurz, also comes from a long-established party but the "Whizz-kid" has reinvented it as his own "turquoise movement". He has taken belligerent from the Freedom Party by moving his party right – while the Freedom Party has changed left on social issues, contend commentators.
For decades Austrian politics was dominated by centrists of the People's Party and Social Democrats, but observers contend a new bloc between them is reduction likely now than a bloc between the conservatives with the Freedom Party.
Austria country form
The pleasing flower with an nauseous past
In the debate, which covered 5 areas comparison by candidates, all 3 categorical possibilities called for fewer business regulations.
The Freedom Party's Heinz-Christian Strache warned of inexpensive work entering the country from eastern Europe, while Greens' Ulrike Lunacek argued that the economy and sourroundings went together.
Mr Kurz and Mr Strache infrequently echoed the same ideas, with both stressing the confidence hazard posed by immigration but incompatible over the response, and both observant the children of immigrants should learn German before starting school.
During the campaign forward of Sunday's snap election, Mr Kurz mostly reminded electorate that he against the 2015 liquid of strange migrants.
Veil ban
In 2015-2016, some-more than a million migrants – mostly Syrian, Iraqi and Afghan refugees – reached Germany.
Austria, on the categorical movement route, struggled to cope until an EU understanding with Turkey drastically cut the numbers issuing by the Balkans.
As unfamiliar minister, Mr Kurz helped to attorney the new Balkan limit restrictions last year that kept migrant numbers down. He corroborated a anathema on full-face veils – burkas and niqabs – which took outcome on 1 October.
Last year Freedom Party claimant Norbert Hofer narrowly lost the presidential election, won by ex-Green Party personality Alexander Van der Bellen.
The Freedom Party was launched in 1956 by ex-Nazis and enjoyed electoral success under the late Jörg Haider, who gave the party a populist, anti-EU makeover.
In 2000 Mr Haider's party assimilated the conservatives in government, souring family with the EU. He died in a automobile pile-up in 2008.
Short URL: http://usstory.net/?p=163217