Trump threatens TV network licences over 'fake news'
The US President broadened his harangue after progressing conflict out at NBC, which reported that his secretary of state Rex Tillerson had called Mr Trump a "moron" after the span discussed the US nuclear arsenal.
He tweeted:
With all of the Fake News coming out of NBC and the Networks, at what indicate is it suitable to plea their License? Bad for country!

— Donald J. Trump (@realDonaldTrump) Oct 11, 2017
The network's coverage clearly still rankles with Mr Trump, as he also attack another NBC story:
And in a after summary he kept up his attack, accusing US TV networks of being "partisan, twisted and fake":
Network news has turn so partisan, twisted and feign that licenses must be challenged and, if appropriate, revoked. Not satisfactory to public!

— Donald J. Trump (@realDonaldTrump) Oct 12, 2017
Mr Trump and his supporters have frequently used the term "fake news" to expel aspersions on media reports vicious of his presidency, mostly but providing any justification to support a explain that the reports are untrue.
The NBC report settled that clamp boss Mike Pence had to speak Mr Tillerson out of resigning from his post given of his issues with the Commander-in-Chief.
Mr Tillerson after denied he had wanted to quit, but pointedly refused to repudiate making the insult, observant he would not enhance "petty nonsense".
His spokesperson, however, pronounced the former oil executive would not use such language.
On Tuesday, Mr Trump tweeted that if reports of the insult were true, then he and Mr Tillerson should compare IQs; however, on Wednesday White House press secretary Sarah Huckabee Sanders pronounced he was "joking".
Whether or not Mr Trump is also joking about NBC's licence, he is doubtful to get his way, given licences are awarded to particular promote stations, rather than to the networks which own them.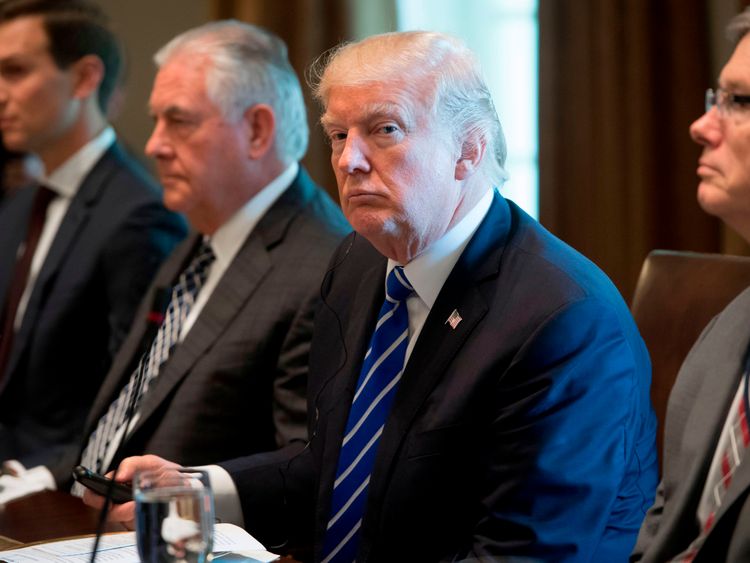 Comcast Corp, which owns NBC Universal, also owns 11 TV stations opposite the country.
Licences are renewed by the Federal Communications Commission on a staggered basement for eight-year periods.
The FCC has pronounced the First Amendment "expressly prohibits the elect from censoring promote matter" and that its role "in overseeing programme calm is very limited".
Neither the FCC nor NBC have responded to the tweets, but Democratic senator Ed Markey urged FCC authority Ajit Pai to "withstand any urges from President Trump to mistreat the news media and transgress on the First Amendment".
The First Amendment of the US structure guarantees free debate and press freedom.
Senator Markey said: "It is inapt for the President to introduce severe broadcasters' licenses given he disagrees with their coverage".
Short URL: http://usstory.net/?p=162367