'Divorce bill' quarrel frustrates Brexit talks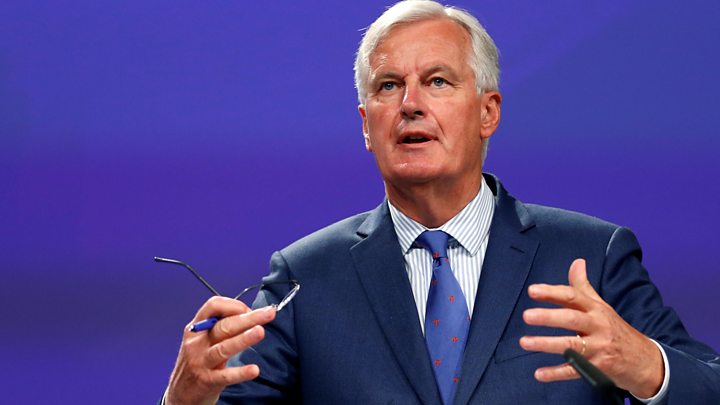 Both the UK and EU have voiced disappointment at the gait of Brexit talks amid feud over the distance of the UK's "divorce bill".
EU adjudicator Michel Barnier pronounced the UK did not feel "legally thankful to honour its obligations" after Brexit.
He pronounced "no wilful progress" had been done on pivotal issues, following the third turn of talks.
But Brexit Secretary David Davis pronounced the UK had a "duty to the taxpayers" to "rigorously" inspect the EU's demands.
And he urged the EU to be "more talented and flexible" in its approach.
'Impatient, not angry'
During a corner press conference, Mr Barnier concurred there had been some "fruitful" discussions on the issues surrounding the attribute between the Republic of Ireland and Northern Ireland, but he struck a desperate tinge overall.
He stressed that he was "impatient… we am not angry… we am desirous and determined" about the swell of negotiations, adding that "time is flying" and the EU was peaceful to feature the "rhythm" of talks.
---
Analysis by BBC Europe Correspondent Kevin Connolly
Behind their discriminating lectern performances, it's transparent there are major gaps between the position of Michel Barnier and David Davis which are not being bridged.
Money is the big adhering indicate of course, nonetheless the phraseology around the issue is a little some-more superb than that, and the denunciation at these moments can give you a genuine feel for the underlying atmosphere.
Mr Barnier says that after this week "it's transparent that the UK doesn't feel legally thankful to honour its obligations".
Mr Davis claims it's healthy that the UK would wish to "interrogate rigorously" any direct placed on its taxpayers. But he is also clever to note that Britain is a country that meets its obligations – dignified as good as legal; it just expects them to be scrupulously specified.
Read more
---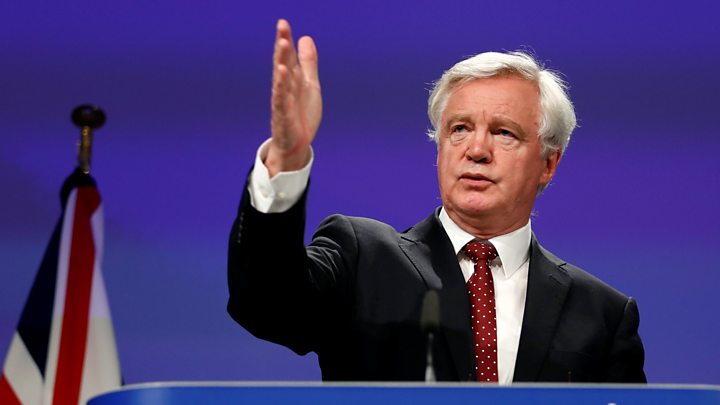 The UK wants to start trade talks as shortly as possible, but Brussels insists that discussions about the future attribute after Brexit can only start once "sufficient progress" has been done on the arrangements for withdrawal – including on the supposed "divorce fee".
Mr Barnier pronounced that at the stream rate of progress, he was utterly distant from being means to suggest opening together talks on a future trade attribute with the UK.
Reality check: Why it's all about money
Brexit: All you need to know
'Fruitful' talks on Irish issues
At-a-glance beam to Brexit negotiations
Brexit: What is at interest in EU-UK talks?
He cited two areas where "trust" indispensable to be built between the two sides – on citizens' rights and the financial settlement, stressing that 27 members of the confederation should not have to compensate for obligations taken by 28.
Claiming there had been a change in the UK government's approach, he said: "In Jul the UK recognized that it has obligations over the Brexit date but this week the UK explained that these obligations will be singular to the last remuneration to the EU plan before departure."
No figure has nonetheless been put on the payment, but European Commission boss Jean-Claude Juncker has suggested it could come in at around 60 billion euro (£55bn), while unconfirmed reports have put it as high as 100 billion euro (£92bn).
'Difficult exchanges'
Mr Davis shielded the "rigorous" line-by-line hearing of the EU's demands carried out by British officials in response to the "unspecified but positively large" sum demanded by Brussels.
He added: "It will, of course, lead to formidable exchanges – nobody will fake it was anything but a tough sell this week – but we consider the British taxpayer would design zero less."
Mr Davis also told reporters the talks had unprotected how the UK proceed was "substantially some-more stretchable and useful than that of the EU".
"This week we have had prolonged and minute discussions opposite mixed areas and we consider it's satisfactory to contend we have seen some petrify progress, and Michel referred to one but there's some-more than that," he said.
"However, as we pronounced at the start of the week, it's only by coherence and imagination that we will grasp a understanding that works truly for both sides.
"In some areas we have found this from the [European] Commission's side, which we welcome, but there stays some way to go."
He added: "Beyond the debates about routine and technicalities, at the heart of this process, must be a enterprise to broach the best outcome for the people and the businesses of the European Union and the United Kingdom," he combined – quite on citizens' rights.
Short URL: http://usstory.net/?p=123711