UKIP's Paul Nuttall wants terror apprehension extent doubled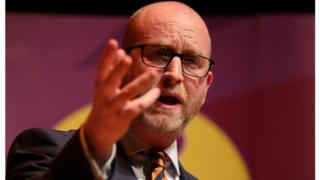 The supervision should consider fluctuating police powers to catch terror suspects but charge from 14 to 28 days, Paul Nuttall has said.
The UKIP personality pronounced he would consider internment, adding that gripping British people protected "is paramount".
Would-be Jihadis who support or fight for supposed Islamic state should have their passports revoked and never be allowed back into the UK, he said.
He told LBC that many Muslims would determine with his stance.
Election campaign: Rolling live updates
Sadiq Khan warns of 'unsustainable' police cuts
Theresa May would revitalise Board of Trade
Mr Nuttall was speaking to LBC's Nick Ferrari 3 days after 7 people were killed and 48 harmed in a terror attack at London Bridge.
Police powers to catch suspected terrorists but charge were reduced from 28 days to 14 in 2011.
But Mr Nuttall pronounced he "would not have a problem" with the apprehension powers being extended again – and also likely a probable return to Control Orders, which allowed suspects to be held under what amounted to residence arrest.
"When MI5 tells us there are 3,000 suspected Jihadis – and another 20,000 just next that – then we consider we've got to realize we've got a intensity problem," he said.
Asked about his views on internment, Mr Nuttall replied: "I would do anything to safeguard British families – British men, women and children are kept protected – that's peerless and we would put that over the human rights of any would-be Jihadi."
Leadership question?
He said: "If anyone goes out to support or fight for Islamic State out in the Middle East, you should have your pass revoked and you should never, ever, be allowed back into this country."
The UK personality pronounced mosques "preaching hatred" or found to be "promoting the values of Islamic State" have no place in the UK, adding: "And we pledge that the immeasurable infancy of Muslims in this country would determine with me.
"Unfortunately there's a tiny series of people within that community, who hatred who we are, hatred the way we live, hatred the democracy and as we've seen on Saturday night – actively wish to kill us. They are a cancer and they need to be cut out."
Mr Nuttall pronounced "we need to get the Muslim village on side here", adding there's "obviously a mangle down in trust, there needs to be some-more integration".
The UKIP personality also called for the supervision to retreat the cuts to police numbers (nearly 20,000), to put 4,000 some-more people into the limit force and 7,000 some-more jail officers. He says "radicalisation is abundant in prisons".
Mr Nuttall pronounced he would not be under vigour to step down if he won no seats on Thursday, observant that UKIP was at its "most influential, [when] we didn't have an MP" and Nigel Farage still remained leader.
He would not contend how many seats he hopes to win, but predicted, "we'll get over the line in a series of seats, but the opinion share will go down".
Short URL: http://usstory.net/?p=36689