No cash in Budget for 'no-deal' Brexit, says Hammond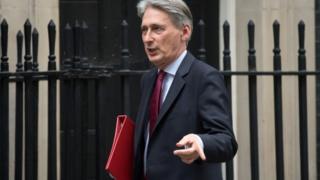 Taxpayers' income should not be spent on scheming for a "no-deal" Brexit, Chancellor Philip Hammond has said.
Writing in the Times forward of next month's Budget, Mr Hammond pronounced he would spend only when it was "responsible" to do so.
The chancellor pronounced he had a shortcoming to be "realistic" about the hurdles of leaving the EU.
His comments came after Theresa May refused to contend on Tuesday how she would opinion in another EU referendum.
After the primary apportion suggested this week that the supervision had plans for a Brexit unfolding but a trade deal, Mr Hammond stressed the significance of avoiding a no-deal finish to negotiations with the EU.
He pronounced he would be "prepared for all outcomes, including a no-deal scenario" but combined that the best impulse for the economy was "certainty".
This – he wrote – could be achieved by "reaching a understanding on the terms of the future long-term attribute with the European Union".
An additional £412m has already been allocated to supervision departments to ready for Brexit over the next 4 years.
PM's Brexit opinion perplexity may haunt her
EU's Tusk warns over 'slow pace' of talks
On Tuesday, Mrs May – who corroborated Remain in last year's opinion – was regularly asked if she would now opinion for Brexit.
She told LBC radio: "I don't answer suppositious questions."
The PM added: "I voted Remain for good reasons at the time but resources pierce on."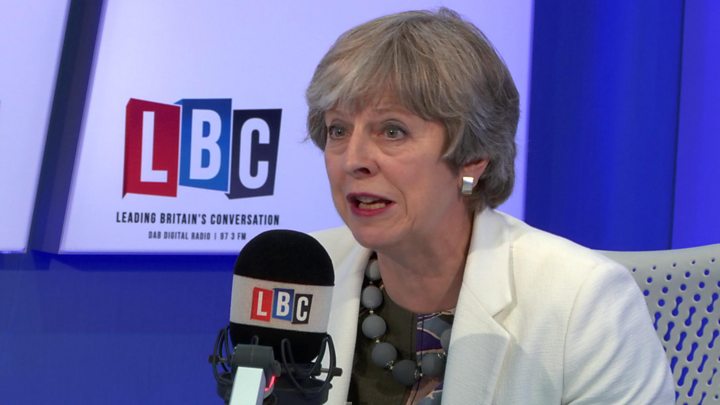 Presenter Iain Dale asked Mrs May because she could not contend she had changed her mind, given that she was heading the country into Brexit.
"Yes and I'm primary apportion ensuring I'm going to broach Brexit for the British people," she replied.
Pressed again, Mrs May said: "I am being open and honest with you. What we did last time turn was we looked at all and we came to a settlement and we would do accurately the same this time round.
"But we are not having another referendum and that's positively crucial."
Downing Street sources suggested it was "ridiculous" to contend her comments lifted doubts about either she would broach Brexit, as some critics suggested.
Mrs May's second in command, First Secretary of State Damian Green, was asked the same question.
Mr Green, who was a house member of the campaign to keep Britain in the EU, told Channel 4 News: "I don't resile from anything we pronounced during the election campaign."
He told Newsnight "it would have been" better had the country voted Remain.
Liberal Democrat emissary personality Jo Swinson said: "It is towering that even the primary apportion isn't assured by the government's proceed to Brexit."
Former UKIP personality Nigel Farage tweeted: "How can Theresa May negotiate Brexit but desiring in it?"
Short URL: http://usstory.net/?p=161213