No Brexit swell amid 'very disturbing' deadlock
Michel Barnier suggested he would again advise the EU27 not to swell to talks on a future trade attribute when leaders accumulate in Brussels on 19 October.
:: As it happened: Barnier and Davis give refurbish on Brexit talks
At a corner news discussion with Brexit Secretary David Davis, following the finish of the fifth turn of Brexit negotiations, Mr Barnier claimed the latest talks had not finished "any good stairs forward".
In response, Mr Davis forked to "significant progress" given negotiations first began in Jun as he attempted to vigour the EU to disencumber its despotic negotiating guidelines.
Mr Barnier pronounced he would not be means to report "sufficient progress" on the pivotal withdrawal issues – the financial settlement, citizens' rights and Northern Ireland – for him to tell EU leaders to permit the second proviso of negotiations.
His comments saw the bruise argent penetrate against both the dollar and euro.
The European Commission central pronounced the Brexit check remained a pivotal adhering indicate in talks, with "technical discussions" but no grave negotiations on the theme this week.
"We are at a state of deadlock on this question, which is very disturbing," he said, before dogmatic the EU would not make "concessions" on any of the 3 divorce issues.
Mr Davis certified there was still "much work" to be done, but pronounced there had been transformation on divorce issues, including a "rigorous examination" of the financial allotment by UK officials.
The Brexit Secretary also highlighted how some withdrawal issues were "dependent on discussions on the future relationship".
He said: "I make no secret of the fact that to yield certainty we must speak about the future."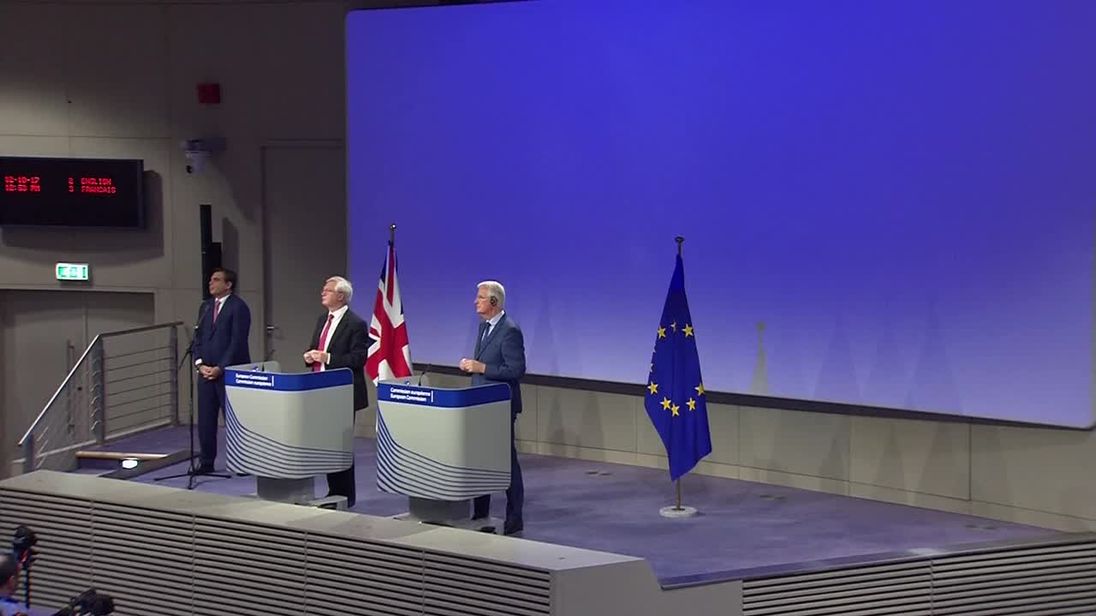 UK sources close to the negotiations told Sky News the UK will not nudge one bit over the financial allotment until the EU offers some tardy over the sequencing of talks.
Mr Davis voiced his wish the EU27 will palm Mr Barnier "the means to progress" during Brexit negotiations, while the European Commission central himself vowed to "explore ways to get out of deadlock", adding: "Decisive swell is within the grasp."
Despite insisting he will "scrupulously" follow the horizon for negotiations handed to him by the 27 EU member states, Mr Barnier offering some wish Brexit talks could swell before the finish of the year.
He said: "With domestic will wilful swell is within the grasp within the next two months."
After next week's Brussels summit, EU leaders meet again on 14 December, before which Mr Barnier competence finally suggest they authorize the next theatre of negotiations.
Speaking after at a press discussion in London alongside his Polish counterpart, Foreign Secretary Boris Johnson combined to Mr Davis' efforts to force the EU into budging from its despotic negotiating stance.
"We consider we've finished some very useful suggestions to get the good ship moving down the slipway and onto the open seas," he said.
"That's what we all wish to see, we see no reason since that should not take place and we're looking for some coercion from the friends and partners and time to put a bit of a tiger in the tank and get this thing done."
Following the news discussion in Brussels, Labour's shade Brexit secretary Sir Keir Starmer urged Mr Davis to ask an additional emergency turn of talks before next week's European Council summit.
Later, during a revisit to a village centre in Shipley, West Yorkshire, Jeremy Corbyn pronounced his views had not changed on Britain's EU membership.
Asked either he would still opinion Remain at a second EU referendum, after the Prime Minister dodged the same doubt progressing this week, the Labour personality insisted "there isn't going to be another referendum".
"I voted Remain since we suspicion the best option was to remain," Mr Corbyn added.
"I haven't changed my mind on that but we accept the outcome of the referendum."
Short URL: http://usstory.net/?p=162609