Brexit: Leaked devise to give welfare to British workers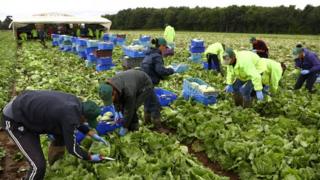 British workers would get welfare over those from EU countries in the jobs marketplace following Brexit, a trickle of a breeze Home Office devise suggests.
Firms would have to partisan locally unless they could infer an "economic need" to occupy EU citizens.
They could face a skills taxation to boost training of UK workers if they still chose to occupy inexperienced EU staff.
The thought – in a leaked request obtained by the Guardian – is partial of a devise to cut low-skilled migration.
It has not been sealed off by ministers, who will set out their post-Brexit emigration plans after this year.
Davis: Big differences over Brexit bill
All you need to know about Brexit
EU warning over Irish limit post-Brexit
But Defence Secretary Michael Fallon said: "The open voted to leave the European Union. That means leisure of transformation has to end."
He pronounced "people with the right skills" would still be "welcome".
But he added: "Equally we have to make certain that British companies are also prepared to sight up British workers.
"The open are very clear, they wish to see immigration not stopped but brought scrupulously under control."
The Home Office request obtained by the Guardian, entitled the Border, Immigration and Citizenship System After the UK Leaves the EU, is noted intensely supportive and antiquated Aug 2017.
Among the ideas in it are:
A top on the series of inexperienced workers from the EU
Introducing a income and skills threshold
Preventing EU migrants from job-seeking in the UK
Ending the right to settle in Britain for many European migrants
Placing new restrictions on their rights to bring in family members
"The supervision will take a perspective on the mercantile and social needs of the country as regards EU migration, rather than leaving this decision wholly to those wishing to come here and employers," the request states.
Low-skilled migrants would be charity residency for a limit of two years while those in "high-skilled occupations" would be postulated permits to work for a longer duration of 3 to 5 years.
EU adults coming as tourists, on short-term business trips or visits to friends and family would be means to enter the UK but wanting permission, under the breeze proposals.
Those staying longer would need to register for a chateau assent by showing explanation of employment, study or self-sufficiency. Applicants' fingerprints could also be taken.
The request says the new regime would only come entirely into force at the finish of a transition period, which could last up to 3 years.
It would not impact EU nationals already vital and operative in the UK – the supervision says they should be given the right to request for "settled status" after 5 years of being official residents, nonetheless agreement on this has nonetheless to be reached in Brexit talks.
The leaked request says: "Put plainly, this means that, to be deliberate profitable to the country as a whole, immigration should advantage not just the migrants themselves but also make existent residents better off."
Edwin Morgan, executive of policy at the Institute of Directors, insisted British firms were not contracting inexpensive unfamiliar work rather than training up internal workers.
"I pronounce to employers every day and they always contend we try as much as we presumably can to occupy British workers. If we were to see a very discerning rebate of immigration that would be a deleterious blow for the economy."
It is accepted that the request is a draft, unprepared chronicle of an arriving White Paper circulated among comparison officials and that there have been at slightest 5 progressing versions.
Reality Check: Brexit catch-up
Reality Check: Migration to the UK
Pressure organisation Migration Watch described the proposals in it as "excellent".
"Uncontrolled emigration from the EU simply can't be allowed to continue," pronounced the group's authority Lord Green.
"These proposals rightly concentration on low-skilled emigration and by doing so could revoke net emigration from the EU by 100,000 a year over time.
"This would be an critical step to achieving the government's immigration target."
UKIP also welcomed the proposals, observant they should be implemented "without fudging" – but Labour MP Yvette Cooper pronounced they seemed to fly in the face of Home Secretary Amber Rudd's joining progressing this summer to deliberate on a post-Brexit immigration system.
The TUC pronounced the "back of the pouch plans" would "create an subterraneous economy, enlivening bad bosses to feat migrants and undercut decent employers charity good jobs".
Lib Dem personality Sir Vince Cable claimed Theresa May had suppressed "up to 9 reports" showing immigration did not hit the salary or jobs of existent UK workers when she was home secretary.
Short URL: http://usstory.net/?p=129209