Review: Bruce Springsteen's 'exuberant and intimate' Broadway debut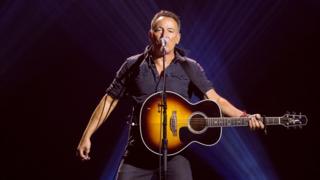 Bruce Springsteen is breaking box-office annals with his one-man show, Springsteen on Broadway.
The stone star done $2.3m (£1.8m) in his first week of previews, behind only Hamilton and Hello, Dolly! – which both played some-more shows in the same period.
Mixing live music and storytelling, the show is set to run for 16 weeks, with The Boss holding up chateau in the 960-seat Walter Kerr Theater.
"It's substantially the smallest venue I've played in the last 40 years," he said.
The show strictly opens on Thursday night – but the BBC's Elysa Gardner managed to locate one of the previews.
Bruce Springsteen's first Broadway show is conjunction a low-pitched nor a unison in the tradition of his prior solo tours.
Written and destined by The Boss, Springsteen On Broadway – which arrives roughly a year after his autobiography, Born To Run – is a meticulously crafted, deeply personal tour with set difference and music, with the star alternately concomitant himself on guitar and piano.
But the two-hour program is also, in its clearly intimate, understated fashion, an confirmation of the generous climax and clear storytelling that Springsteen's stone and hurl shares with low-pitched theatre.
As a songwriter, we're reminded, he's as much an heir to Rodgers and Hammerstein as any contemporary cocktail artist – an unashamed romantic with a probing social conscience, whose mountainous tunes give full-throated voice to American dreams and the demons that haunt them.
BBC Music: Bruce Springsteen
Bruce Springsteen on songwriting
How Clive Davis changed Springsteen's career
Bruce Springsteen: 'Trump is a conman'
The songs in Springsteen On Broadway are clearly selected reduction to show off Springsteen's array of noted characters (or hits, for that matter) than to acknowledge the people and events that done them.
Not surprisingly, some-more time and fact are clinging to his girl than his scarcely 45 years as one of the many famous people on the planet.
"I come from a boardwalk city where all is kaleidoscopic with a bit of fraud," he announced at a preview before the central opening night, before ripping into his first number, the early classical Growin' Up. Two verses in, as if to underline the point, he paused to quip, "I've never held an honest pursuit in my life… and nonetheless that's all I've created about."
Such self-deprecating humour, which extends to tales of Springsteen's careless girl and early career struggles, was equivalent by moving, low-pitched tributes to his father, a depressive who sought retreat at the internal bar, and his defiantly certain mother.
"She gave the universe a lot some-more credit than it deserves," Springsteen observed, streamer to the piano for an achingly proposal The Wish.
Springsteen also played the stone and hurl preacher, naturally, requesting a ingeniously scaled-down chronicle of the shamanistic power that has churned packaged stadiums into frenzies. The book used winking but charming repetition, with witty references to the pleasures of the flesh, as good as the ubiquitous promises of girl – prisoner in refreshing readings of Thunder Road and The Promised Land.
As the show progressed, though, the importance shifted to some-more mature concerns and rewards. It's here that Springsteen's ability to open his heart and comparison tenderness – as the many inspiring stone and low-pitched entertainment artists almost constantly do – came to the fore. Back at the piano for a robust Tenth Avenue Freezeout, he held onward but haven about late E Street Band sax favourite Clarence Clemons.
Joined by wife and associate E Street member Patti Scialfa for two songs, he chose to hang with Brilliant Disguise, an comment of the frailty of love, created while Springsteen was married to another woman, done all the some-more touching by a couple that has survived it.
Politics did not go wholly unmentioned; after observant that folk don't like stone stars advising them on such matters, Springsteen done anxiety to "the disaster we're in" – embellishing that regard with a charming adjective, but avoiding the T-word.
Nodding to an epoch when his lyrics were disfigured by another president, Springsteen introduced Born in the USA with blistering, Eastern-flavoured chords (the show's many decorated proof of his guitar virtuosity), then sang the first lines a cappella, his voice tender and weary.
But that's seemingly not the USA Springsteen chooses to see, or represent. One of the evening's many rousing numbers was The Rising, an comment of courage, scapegoat and, yes, transcendence that was the pretension lane of an manuscript Springsteen expelled reduction than a year after 9/11. Its favourite and anecdotist is a firefighter operative that day, confronting the abyss but also looking over it.
It's an picture that, 16 years later, carried a fresh clarity of urgency. Springsteen spoke of anticipating "beauty and power" in American stories, a idea that has found him consistently defying jingoism, and prodding us to keep dancing in the dark, while reaching for the light.
Setlist:
Growin' Up
My Hometown
My Father's House
The Wish
Thunder Road
The Promised Land
Born In The U.S.A.
Tenth Avenue Freezeout
Tougher Than The Rest
Brilliant Disguise
Long Walk Home
The Rising
Dancing In The Dark
Land of Hope and Dreams
Born To Run
Follow us on Facebook, on Twitter @BBCNewsEnts, or on Instagram at bbcnewsents. If you have a story idea email entertainment.news@bbc.co.uk.
More on Bruce Springsteen
BBC Music homepage
BBC Music News LIVE
Short URL: http://usstory.net/?p=163331
Posted by
USstory
on Oct 13 2017. Filed under
Entertainment
. You can follow any responses to this entry through the
RSS 2.0
. You can leave a response or trackback to this entry